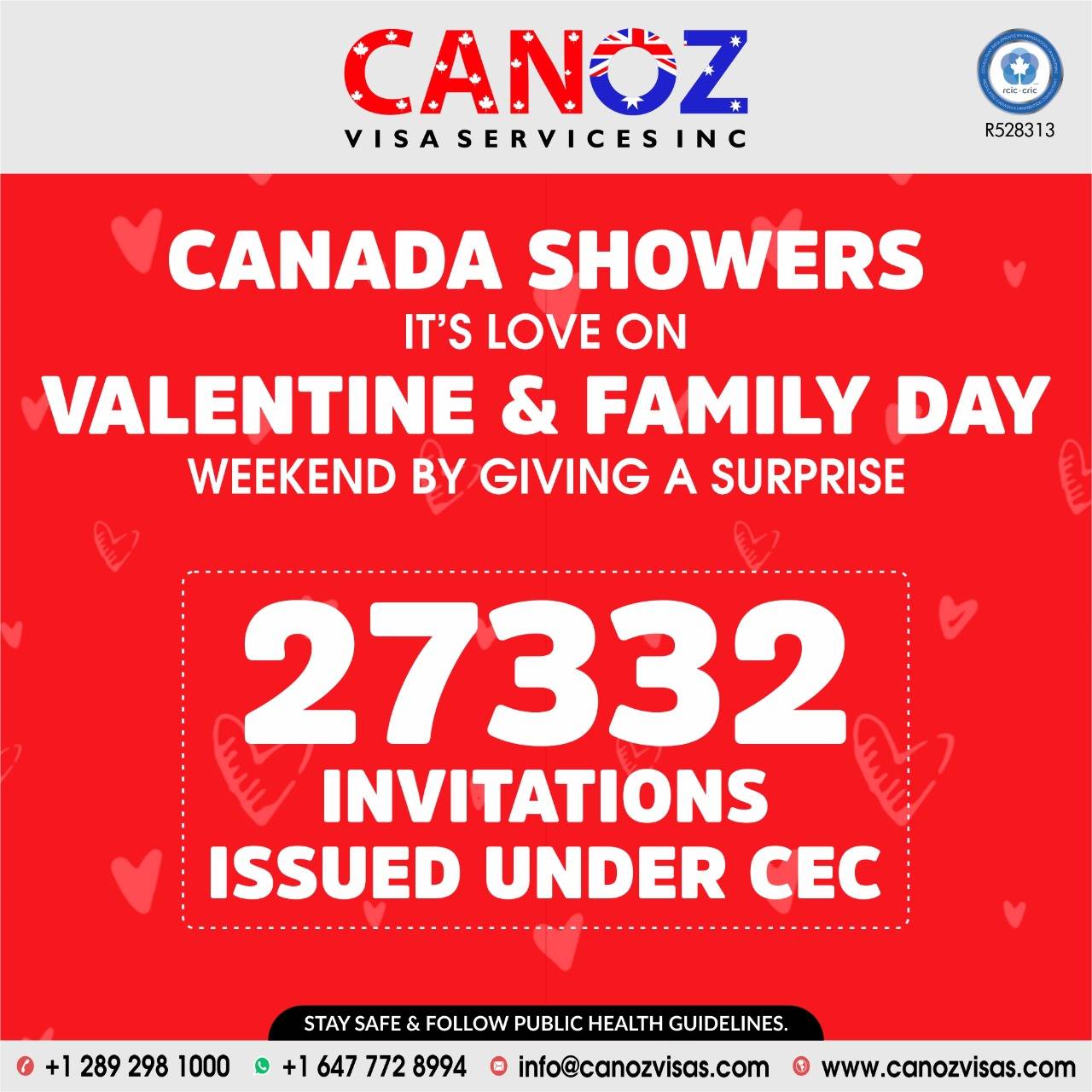 Canada Showers it's Love on Valentine & Family Day Weekend – Invites 27332 applicants under Canadian Experience Class Draw Yes, you read that right! It was a momentous Saturday draw by IRCC, where 27332 ITA's were issued to the Canadian Experience Class applicants. With the lowest draw ever of CRS 75,
Immigration, Refugee and Citizenship Canada
(IRCC) have set a novel record in Canadian immigration history. This unparalleled
CRS draw
on February 13, 2021, clearly showcases IRCC's promptness in making every possible effort to accomplish its target of inviting 401,000 new immigrants in 2021. This draw in this new year embarks the remarkable upsurge in invitations in all the Canadian economic pathways that we could experience later in this year. Besides, IRCC also held a Categorical Entry Draw inviting 654 Provincial Nominee Program (PNP)  candidates to apply for permanent residency. In total it makes 27986 ITAs issued by IRCC this week. But here IRCC applied the tie-break rule according to which candidates with the lowest CRS score of 75 have been included only if they submitted their profile before September 12, 2020, at 15:31 UTC. According to Marco Mendicino, Canada's Immigration Minister, IRCC will endeavor to achieve massive immigration targets by converting temporary residents into permanent residents during this pandemic period. It is also important to take note of the fact that this draw was more than five times in size as that of previously recorded high draws. Unlike the usual invites of as much as 5000 per CRS draw, this one is groundbreaking. It seems that they have selected every member who qualified under the
Canadian Experiences Class CEC
in this draw except for Federal Skilled Workers who do not fall under the CEC category. Now, this unprecedented draw might shoot an array of questions in everyone's mind. Such as why is IRCC reaching out to CEC and PNP candidates and not the FSWs. It is most likely because we still have closures at the borders of Canada in some places paired with stringent international travel restrictions. This in turn makes it very clear that they are considering people for permanent residency who are already present in Canada. Therefore, this unbelievable draw #176 is a way out to accomplish IRCC's immigration targets for 2021 in compliance with the latest international travel restrictions imposed by the Candian government in lieu of stopping the spread of COVID-19. What Happens to Federal Skilled Workers next? It is uncertain to tell when we can expect the next draw for Federal Skilled Workers or in other words when the next Express Entry draw will be conducted. But analyzing the pattern followed by IRCC and the massive ITAs issued today, it can be unlikely to see a next FSW draw sooner than a couple of months. Although IRCC conducts the Express Entry draws every two weeks, inviting the candidates to apply for permanent residency. But this being the sixth draw in 2021, there has not been an all-program draw this year, so far. This includes candidates falling under the Federal Skilled Workers category. As discussed above, Canada is prioritizing CEC and PNP candidates instead of FSW during the pandemic because these people are most likely to be in and around the country. However, IRCC has held program-specific draws for about three months after March 2020, when Canada first went into COVID -19 lockdown. Later in September, the authorities were back to square one conducting all-program draws every two weeks until December 2020. But there is nothing to lose hope on, it is very likely that IRCC will soon resume holding all-program draws in 2021. At the same time,
CanOz Visa Services
is always at your help to keep you updated with every minute latest update on Canadian immigration. To keep you abreast of every current authenticated information, ensure that you follow us on our social media handles and subscribe to our alerts today! On this note of exciting and surprising news, we would like to congratulate those who have received the ITAs today. The entire team of CanOz Visa wishes them good luck in their endeavors to pull the successful applications of their Canadian Permanent Residency. Contact our
Immigration Consultant in Brampton
today at +1 289 298 1000 or Book Free Consultation Now on our website
canozvisas.com
to Study or Immigrate to Canada or Australia?
We are Canoz Visa Services and our team is committed to provide the highest standards of client service in a friendly environment.
Harsimrat provides comprehensive and personalized services to her clients for Canadian Immigration. Originally from India she has a good command over English, Hindi and Punjabi language.
He provides comprehensive and personalized services to his clients. He has handled many complex cases for Australian Immigration for his clients and has a very high success rate. He is known for his analytical and strategic approach. He is Originally from India, he has a good command over English, Hindi and Punjabi language.
to Study or Immigrate to
Canada or Australia?
We are Canoz Visa Services and our team is committed to provide the highest standards of client service in a friendly environment.